SF series
is a premium Nano-ceramic automotive window tint, made with the most up to date Nano ceramic material and inorganic sputtering technology. The outstanding features of this window tint is the High IR rejection rate- 95%, and near 100% UVA and UVB rejection. Diffusing reflection premium technology absorbs energy from the sun instead of reflecting light and radio waves. This Film does not block any signal from cellphone or any other electronic devices in your vehicle, helps to reduce the temperature inside the car. It is easy to work with, easy to shrink and 6 shades are available to enrich customerc choice. Additonally, SF Ceramic Film Series Ceramic nanoparticles create a deeper black and brillian colors. This high-performance window film dramatically improves driving experience and the look in your car or truck.
Key Benefits
Nano-ceramic technology
High infrared and heat rejection Up to 95%, reduce your vehicle's interior temperature
High Optical Clarity
Improves vehicle appearance
Glare reduction-makes driving safer.
Increase Safety-In the event of an accident, our automotive window film helps holds shattered glass together, keeping driver safer.
Blocks more than 99% of the harmful UVA and UVB rays
Improve privacy-This Series has 6 shades that can offer more privacy for your and valuables inside the vehicle.
Guaranteed against fading or color change
Lifetime warranty
Nano Ceramic Technology Nano is actually a unit of length. One nanometer is equal to one millionth of a millimeter. It is so small. When a material reaches the nanometer scale, light, electricity, magnetism, force, etc. will appear special properties completely Different with the original material. Using this special property, material applications will achieve more application value and added value. This technology has developed rapidly in the past two decades. With KSB window films, ceramic means a material or technology applied a film to enable it with certain features such as heat resistance. So ceramics here means- or generally refers to a new type of material that makes the average particle size (D50) of the material less than 100 nanometers through various means and technologies. The main material is Nanometer cesium-doped tungsten oxide powder.Nano-Cesium-Doped Tungsten Oxide: It is one of the semiconductor materials with the highest spectral selectivity found to date. It is characterized by a high transmittance to visible light and a strong barrier in the near infrared region. The special properties of this material can completely replace expensive magnetron sputtering and other technologies, and are used for special needs such as solar film production, near-infrared identification, and near-infrared hot-melt processes.
Color stability
KSB film material applies the most scientifically formulated coloring for a non-reflective, attractive appearance with protection against change in color. The near 100% UV block also help to maintain the original color over time.
All nano ceramic window film comes with high infrared rays rejection up to 95%, and near 100% UV block. This improve the driving experience and make it more comfortable.
KSB Nano ceramic window film comes with no metal, they wont interfere the wireless transimisson devices such as GPS, cell phone or other devices.
All Nano ceramic window films come with lifetime warranty against color fading, adhesive failure, delamination, peeling off or color inconsistency.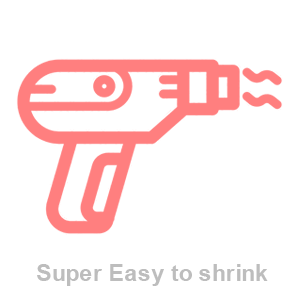 KSB Nano ceramic films are super easy to work with. They are Easy to shrink, to cut and to put on windows. This saves installer valuable time and make the work more productive.
Film Clarity
The Nano-powder itself is in a soft agglomeration state. wet grinding equipment and processes are applied to separate the soft agglomeration. So they stay in a stable state. The powder needs to be burnt at 800-1000℃, so that big particles are burnt into more evenly uniformed size. A good quality Nano film will have high IR rejection, low reflectivity, and high clarity.
The picture below will show the differenence of the Nano ceramic molecular distribution
KSB Film Technology Co., Ltd. is a manufacturer of Nano-window film in Dongguan, China-the manufacturing capital of China. With scientific research team formed by many top-level talents in the field of window film, KSB is committed to providing customers with higher quality, more reliable, more economical and more environmental friendly Nano ceramic-window film, carbon ceramic, high performance color stable window film, window tint products.
All Nano ceramic films come with a life time warranty. Customers over the word choose ksb films for its brilliant color, easy workability and high performing functions and of course the competitive prices. For years, it is dedicated to provide window tint wholesales, window film distribution or private label for customer brands. KSB products are often compared to big name brand products and it stand out.
If you are looking for a Nano ceramic film, ceramic film, carbon ceramic film or high performance color stable film wholesale or tint supply, Tint Company, make sure you talk to use and get a free sample or film roll to test with your hands.