Chameleon film is made of many layers thin films with different thickness and light reflections, so it appears different color from different viewing points and light conditions. This film usually comes in to color-One is red, reddish blue or sunset red, Ruben Red as there are many names for this type of film. Another is purple blue. No matter which color the film has a visible light transmission up to 80%, which make it street legal in some countries, where certain % VLT or higher is required. In addition, the Chameleon film has a high heat rejection up to 80%, but this data can be different from A spot to B spot due to the physical features of multiple layer contractions.
Chameleon film brings about a unique appearance and creates a personalized identity for our car fans. Being trending up in Europe, especially in UK, Chameleon film is getting more and more popular by the day.
Produced with the latest Nano technology and multiple layer film layer intrusion, Chameleon film is optically high clear with any low angle haze or foggy look. Reliable, functional, and visually enjoyable, chameleon film becomes one favorite for tint master worldwide, as it not only sells itself, but it drives traffic to tint store, enhancing chances to resell to your customers.
Get yours now!
Red/blue
Purple blue
Sunset Red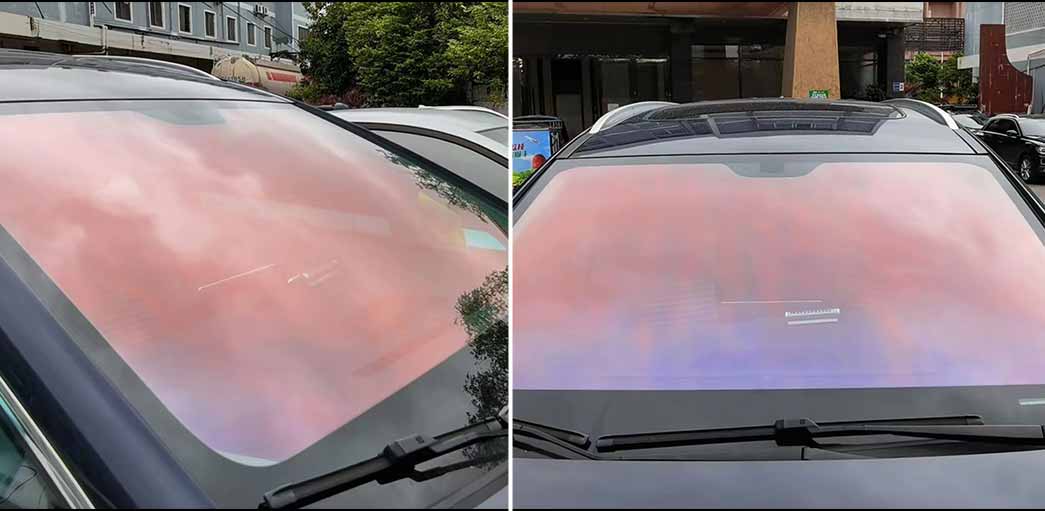 Key Features of Chameleon window film:
Unique appearance, create a unique identity.
Nano Ceramic technology and high quality
Privacy for your drive
Ultra-clear vision
More driving comfort with reduced eye strain
Lifetime warranty